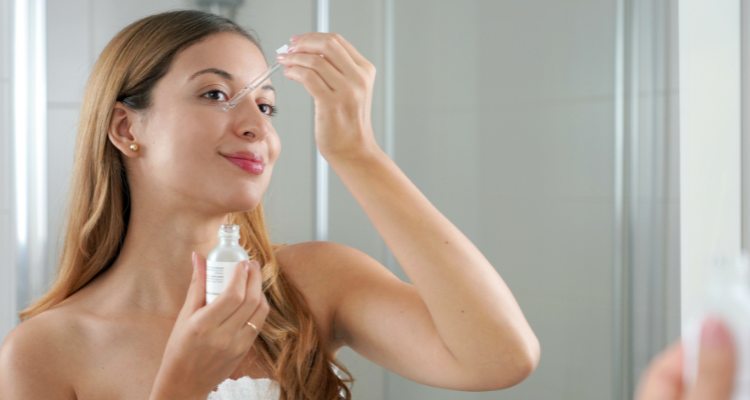 Choosing the best retinol product for your skin concerns
Retinol has cult status when it comes to active ingredients that make a huge difference to the health and appearance of our skin, but with so many variations of this wonder ingredient on the market, it can be difficult to choose the product that will work best on your skin. Below we will explore what Retinol does in the skin, how it works and how best to introduce it in your skincare routine.
What is Retinol?
Retinoids are a huge family of compounds that are Vitamin A derivatives. There are actually several forms of retinoid products from over the counter to prescription retinoids in topical and oral medication form. These include retinyl esters, retinyl palmitate and plant-based retinol alternatives that deliver anti-aging effects to the skin tackling the breakdown of collagen, environmental damage, dull skin, and acne-prone skin. This Gold standard ingredient is a powerful tool to deliver a healthy glow, improve skin radiance, skin firmness and tackle sun damage. 
What Are the Benefits of Retinol?
Vitamin A is an ingredient that can cause a physical change in the skin and repair any damage in the cells. It can increase epidermal thickness so it is effective on lines and wrinkles and is considered to be the best anti-aging molecule available in skincare that delivers smoother skin. So how does it work:
Increases the process of cell renewal - this is the skins natural skin renewal process that slows down with age leading to dullness, sun spots, fine lines and wrinkles.
Promotes collagen synthesis - helps to resolve deeper set wrinkles, reduce the appearance of large pores and helps with skin that is sagging, giving firmer skin.
Helps reduce pigment production - an ideal ingredient for those suffering from dark spots, uneven skin tone, age spots and hyperpigmentation leading to brighter skin. 
Exfoliates to remove dirt, dead skin cells, and oil from pores -This can help prevent the formation of pimples, and even acne scarring making it an excellent addition for acne sufferers.
Retinoic acid is a form of Vitamin A that is available on prescription only and is prescribed for patients with severe acne or other skin conditions, Retinoic acid is an excellent medication for those under the supervision of a doctor but can cause some unwanted side effects like skin Irritation, dryness and flaking of the skin. 
There are however a number of forms of vitamin A with fewer side effects available without a prescription and when introduced correctly can make a huge difference to how your skin looks and feels. Retinol of all the skincare ingredients can deliver a fresh glow, leaving the skin hydrated and resolving skin issues. So, what is the correct retinol product for you?
Retinol to treat Acne
If acne breakouts, pimples, blackheads, and acne scarring is an issue for you, retinol can be an excellent addition to the skincare routine. Using a lightweight formula that won't block the pores and is suitable for skin that may be irritated is essential when using a retinol for acne. 
The CeraVe Resurfacing Retinol Serum helps reduce the appearance of post-acne marks and visible pores while refining the skin's surface. This smooth serum contains encapsulated retinol and will refine skin texture and improve smoothness. The ceramides that CeraVe are best known for will help with the barrier function of the skin, minimising further breakouts which is ideal for acne or sensitive prone skin. 
Retinol to treat Lines and Wrinkles
Retinol is the proven anti-ageing ingredient if you want to give your skin a flush of youth. Dermalogica's approach to skin care is to work on advanced skin concerns. This formula will brighten and freshen the skin tone and also work on deep set lines and wrinkles and signs of sun damage, all the while preventing more from appearing as it boosts our skins collagen production and works on visible pores. 
Dermalogica Overnight Retinol Repair 0.5% will restore firmness to the skin while repairing damage to the skin by speeding up the production of new healthy skin cells. This potent formula should be introduced slowly and buffered with the additional cream included with the retinol serum. Use a pea-size drop of this retinol booster starting with one night per week and building up to 2- 3 times per week.
Retinol for Damaged Skin
Retinol is a super ingredient for helping to repair damage to the skin by working as an antioxidant. Retinol helps to neutralise free radicals that cause damage in the skin and destroy our collagen and elastin, two vital proteins to keep our skin looking young and fresh and negate premature aging. 
Vichy's Liftactiv Retinol Specialist Deep Wrinkle Serum is designed to visibly reduce wrinkles and lines, improving overall skin tone and boost skin's radiance for a healthy-looking, youthful appearance. Formulated to avoid a negative reaction this formula contains probiotic derived fractions, a cultured bacterial also known for their skin repairing properties. This lightweight milky serum is suitable for all skin types and tones with a 0.2 percentage of retinol to help you reach your skin care goals.
Retinol for Dry skin
The introduction of retinol into our skincare routines can often add to dryness, irritation and what is known as 'down time'. If you already have dry skin this can be a real pain! However when combined with oils rich in omega fatty acids retinol can be introduced to deliver all its amazing benefits while avoiding potential side effects. 
Pestle & Mortar Superstar Retinoid Night Oil is night-time anti-aging treatment, packed with potent ingredients to help reduce fine lines, wrinkles and pore size while evening skin tone for the ultimate beauty sleep. This incredible product combines retinol with natural plant oils cold pressed such as Jojoba oil, grape seed oil and avocado oil meaning that irritation is minimal and the skin is softened and repaired.
Retinol for Sensitive Skin
If you have sensitive skin you may be tempted to shy away from retinol to avoid any irritation however this means you are missing out on all the amazing benefits of this molecule. For all sensitive skin types there is an option to include retinol in your routine.
The La Roche-Posay Retinol 0.3% + Vitamin B3 Serum is specifically formulated for those concerned with dehydration, skin irregularities (complexion) and wrinkles, but also searching for a serum suitable for sensitive skin. A wonder product that also contains Vitamin B 3 and Glycerin to help soothe sensitive skin.
Retinol for Beginners
When introducing retinol into your routine it is a bit of a commitment. If you would like to try a retinol product but don't want to commit, try entry level retinol and see if your skin benefits.
The Inkey List Retinol Serum is a nice light gel-like consistency and is an excellent price point for beginners. If you find you like the results you can continue to use it or move on to a stronger formulation.
Pro Tips to Prevent Irritation when Introducing Retinol
Use retinol at night: retinol breaks down when exposed to UV light so using it at night time is essential. Look for topical retinoids in a night-time moisturiser, lightweight serum or retinol oil.
SPF is a must: Retinol makes the skin more sensitive to UV light so if you skip UV protection you can experience burning and severe irritation to the skin.
Retinol should be introduced slowly: start with a low concentration or use once a week to begin with, and increase use as the skin adjusts and build up to using every second night.
Skip other actives: on the night you are using retinol do not use any exfoliating acids like glycolic acid, lactic acid or salicylic acid - use those on the nights you are not using your retinol.
Retinol should not be used by those who are pregnant or breastfeeding, instead try a night cream that contains a plant alternative like Ella & Jo Bakuchiol moisturiser.
Start your retinol journey today with Meaghers and achieve glowing, clear and firm skin! Shop all retinol products online at Meaghers now and get in touch with our experts in store or via social media if you have any queries or questions.