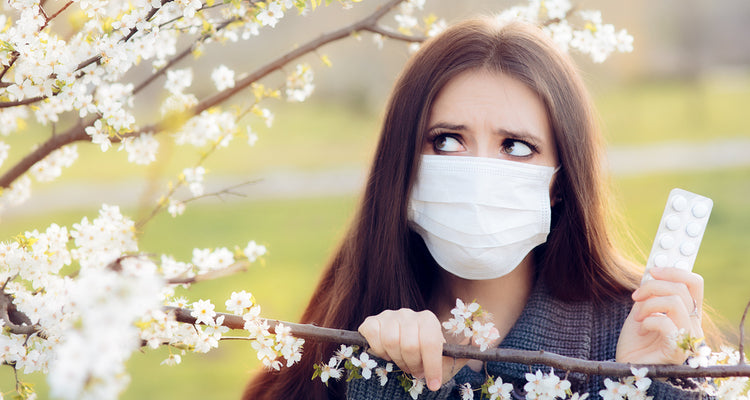 Hayfever vs Covid-19: How to know the difference
Although we are all looking forward to the longer brighter days and warmer weather, there are many people that dread this time of the year as it brings with it higher pollen levels which leads to many people suffering from allergies, also known as hay fever. Some of these symptoms of hay fever are similar to those of Covid-19 and it is important to be aware of the differences and to know when to contact your doctor for a free Covid test if needed.
The typical symptoms of hay fever are:
Sneezing

Blocked/runny nose

Itchy/watery eyes

Itchy throat

Discomfort in the sinuses

Feeling run down
The main symptoms of Covid-19 are:
High temperature

Headache

Cough

Shortness of breath

Loss of taste/smell

Fatigue

Aches and pains

Nausea, vomiting or diarrhoea
The common symptoms that can be seen between the two are fatigue, headache and cough. The cough that is generally caused as a result of hay fever comes from the tickling of the throat rather than deep in the lungs so it tends to be milder and less persistent. Some of the other symptoms are harder to distinguish between such as a headache which can be caused by discomfort of the sinuses or a lack of smell that could be caused by a blocked nose. Hay fever sufferers don't actually suffer from temperature or muscle aches and pains which is a typical symptom of Covid-19.
Hay fever sufferers tend to suffer similar symptoms year on year and are generally aware of the symptoms they usually get and the severity of them. If you have any of the symptoms of Covid-19 and don't usually suffer from hay fever, I would recommend to stay at home and contact your GP to arrange a free Covid-19 test. Similarly, if you always suffer from hay fever but develop additional symptoms such as a lack of taste, fever or aches and pains you should contact your doctor to arrange a free Covid-19 test.
Some tips to keep your hay fever symptoms at bay:
Ensure that you are taking you antihistamine every day to prevent your symptoms from bothering you.

Use any other products such as eye drops, nasal sprays or sinus rinses to ensure that your symptoms are kept at bay.

Keep a close eye on the pollen count in your area and on days where the count is particularly high, stay indoors with your windows closed.

Wear sunglasses when outdoors to protect your eyes from the pollen

Avoid hanging your clothes out to dry.

Wash your face coverings regularly.

Protect others by using a tissue to cough or sneeze into and discard of it straight away and practice regular hand washing.
Our team is always here to help in any way that we can. If you have any questions on this topic or would like to discuss this with a member of our expert pharmacist team, please contact our helpline on 01 485 3098 or email help@meagherspharmacy.ie. We can advise you what to do and post you out any products that you may need to manage your symptoms.