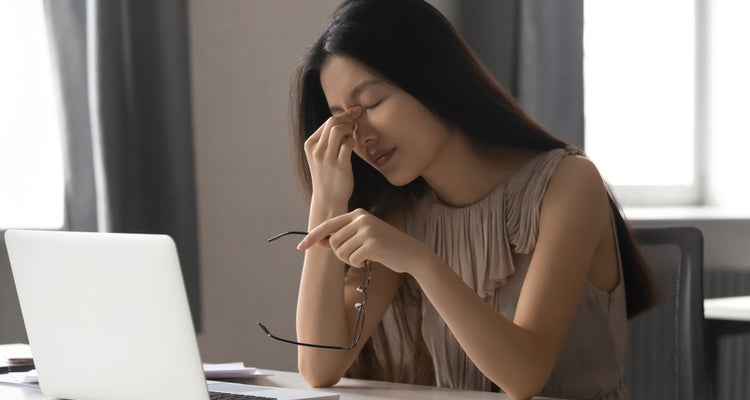 Working From Home: Coping with Eye Strain
As more and more of us are adapting to our new routine of working from home we are seeing many customers coming into our stores for advice on various conditions. Many conditions, such as eye strain, eye fatigue and headaches are resulting from long hours sitting in front of screens at home. These are symptoms that otherwise we would not face if we were in a school, college or work environment. According to the Central Statistics Office in Ireland, 34% of people are now completely working from home and a further 11% do some work from home since the beginning of the pandemic.
Common symptoms that are being reported are:
Headache
Blurred Vision
Dry Eyes
Neck Pain
Shoulder Pain
Poor posture
These symptoms are affecting not only adults working from home, but children and adolescents alike. School and college students that are used to sitting in a classroom setting or in a lecture theatre are now sitting at home facing a screen for a significant portion of their day. As well as working from home on screens there has been reports from Unicef that there has been an overall increase in the use of digital screens such as TV's, gaming consoles and smartphones also since March 2020.
Some simple changes that you can make to prevent these symptoms are:
Keep a proper distance from you screen: the ideal distance that your computer screen should be from your eyes is arm's length. The screen should also be just below your eye's line of sight at eye level.
Sit straight up: It is very important to maintain good posture by keeping your back straight and both of your feet flat on the floor. Your wrists should also be raised slightly rather than resting flat on the keyboard. 
Take regular screen breaks: Every 20 minutes you should aim to look at something in the distance other than your screen for 20 seconds or more. Taking frequent breaks and getting up from your
Take blink breaks: Blinking produces moisture which prevent the eyes from drying out and causing eye strain and eye discomfort.
Increase your font on the screen: If you find that you are leaning closer to the screen to read, it may be a good idea to increase the font on your computer so that it can be read from the recommended distance.
Alter the brightness: Having a screen that is too bright or too dim can be harmful. Adjust your display settings to ensure your screen is at a level of brightness so that you don't need to squint. This will ensure that you minimise the risk of eye strain.
Alongside making the above adjustments, there are a wide range of products available here in Meaghers that can help to prevent and treat these symptoms. I recommend these products in the pharmacy every day
Having some artificial tears nearby: My favourite product to use is the Hy-Opti eyedrops.
Why I love these eye drops:
They provide intensive lubrication and comfort to the eye for longer lasting and intensive soothing relief from dry irritated eyes
They can be used as often as you need
They are preservative free
They can be used with contact lenses
They last for six months once opened
They are suitable for adults and children
They are safe during pregnancy and breast-feeding
They are packaged small and are easy to transport around with you
Using a warming eye mask: The Optase Moist Heat Mask is designed to give effective relief from dry eyes and other related eye conditions. It works by absorbing moisture from the air and releasing natural, constant moist heat to the eye area. It is a great way to not only help with persistent dry eyes but also to switch off for 10 minutes after a busy day at the screen. It heats up in 25 seconds in the microwave and is reusable.

Spacemasks are another favourite of mine for not only helping to soothe tired eyes and relieve eye strain, tension headaches and migraines but to allow for complete relaxation of the mind. They are particularly good to help ease stress and tension. They are a self-heating mask that heat up when they come in contact with the skin. They are safe for everyone of all ages and in pregnancy and breastfeeding.

Take a Supplement: Some eye strain symptoms particularly dryness can be relieved by taking an omega-3 fatty acid which is found in fish oil. Omega-3 fatty acids have been well studied for their role in the support of many systems in the body including vision and brain function. Omega-3 fatty acids help to provide the eye with lubrication. DHA which is a type of Omega-3 is a major structural component of the eye and without enough of it, poor vision may arise. DHA contributes to the maintenance of a normal vision and a normal brain function. In addition to promoting good eye health, they are also beneficial to take as they can help with concentration and overall brain health.
My top recommended supplements are:
Lutein Omega 3 Healthy Eyesight Supplement:
Lutein Omega 3 capsules are known to help support healthy eyesight in adults. Containing lutein and zeaxanthin as well as vitamins and minerals and fish oil rich in DHA.  This supplement can be taken as part of a healthy diet and may help patients with age related macular degeneration (AMD). One capsule should be taken a day with a meal.
Eskimo Brain 3.6.9 Omega Fish Oils:
This product combines the unique stable fish oil, Eskimo-3, with ingredients such as CoQ10 and GLA to optimize brain and energy support.
Provides high levels of omega 3 fatty acids EPA and DHA which support heart health, vision, normal blood pressure, skin health and normal triglyceride levels.
Omega 3 fatty acids EPA and DHA are also very important in supporting your brain's ability to perform - 60% of your brain is actually fatty acids.
Contains omega 6 derived from evening primrose oil and omega 9 (oleic acid), a monounsaturated fatty acid found in large quantities in the healthy Mediterranean diet.
CoQ10 is found in virtually every cell of the body and is a crucial part of the process of converting food into energy. Low levels of CoQ10 are common, especially among older adults.
Vitamin D which contributes to immune health, normal bone, tooth and muscle health and cell division.
Vitamin E which contributes to the protection of cells from oxidative stress.
Adults and children over 12 years should take 2-4 capsules daily with food, or as directed by your healthcare practitioner. Capsules can be taken once daily with a meal.
MINAMI MorEPa Smart Fats High EPA Formula:
This product contains a high dose of DHP and EPA and would be best suited for someone who is looking for a high dose of Omega's alone or who is taking other multivitamins. For adults and children 12 years+ 1-2 soft gels should be taken a day with a meal.

Revive Mastermind:
This is a powerful blend of 11 nutrients that support the brain function, cognitive function and mental performance. It is specifically formulated for a range of individuals such as students from 16 years of age looking to support their brain function, busy professionals needing greater clarity and focus at work, mothers wanting to take control of their day and the active ageing looking to support optimum brain health. Vitamin B5 contributes to normal mental performance and antioxidants that help protect the important nerve cells in the brain from oxidative stress.
It is suitable to take this product with either Revive Active or Revive Zest.
Adults should take one sachet per day dissolved in water.
Eskimo Kids Omega 3 6 Vit A D:
Eskimo-3 is a unique stable fish oil supplement containing a healthy balance of the omega-3 fatty acids, EPA and DHA.  It also contains vitamin D for healthy bones development in growing children. Vitamin E helps to keep it fresh longer. The recommended dosage in children aged 1-12 years is one teaspoon (5ml) daily with food. Eskimo Kids comes in a natural orange flavour that kids will love.
Our team is always here for you in any way that we can be. If you have any questions about anything mentioned in this blog please contact any of our stores to discuss this with one of our expert pharmacy teams.