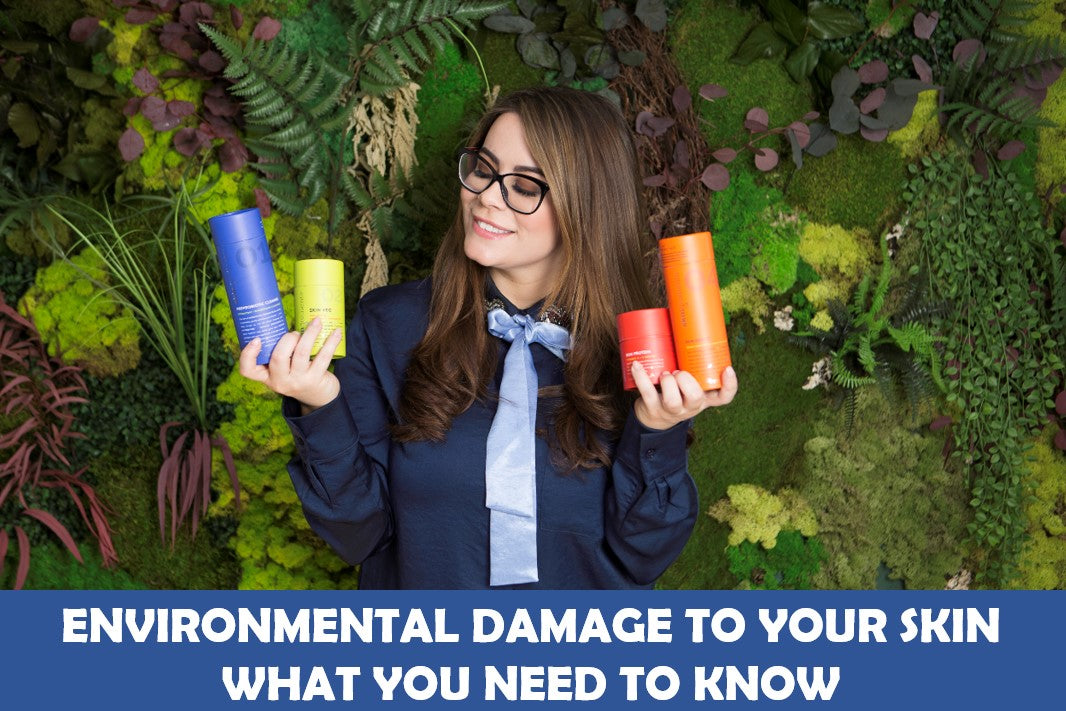 Environmental Damage to Your Skin - What you need to know
The fact that we live on earth means we can't escape from environmental damage. However, there are lots of ways that we can protect our precious skin!
Environmental damage is an umbrella term for the damage we sustain from pollution from cars and city-living, second-hand smoke from cigarettes, UV light from the sun, and even HEV light from our screens and devices!
Environmental damage occurs when large amounts of free radicals are created in your skin and body as a by-product of chemical reactions. These free radicals are unstable, so they rush around your body causing havoc - or more accurately, causing damage to our cells.
If we don't do anything about them, they can affect our health, and our skin, too - but luckily, antioxidants are our heroes when it comes to fighting free radicals!
Antioxidants
Antioxidants are GOOD molecules which we introduce through our diet, and which we can also apply topically to our skin. They do the heroic work of bonding with free radicals, neutralising them and stopping their reign of terror over our cells!
We all know that we should be getting as many antioxidants as possible from our diet, and since they're pretty delicious, we can't see why not! You can find them in tomatoes, oranges, sweet potatoes, rooibos tea - even some kinds of dark chocolate (although we have to advocate moderation here, hard as it is!).
When it comes to Skingredients, it is an anti-ageing range which is packed with antioxidant protection. Let's start with serums!

This hydrating, anti-ageing pre-serum is packed full of botanical and vegetable extracts which all provide antioxidant benefits! We are fond of calling Skin Veg broccoli for our faces - but please, please don't eat it.

Skin Veg contains liquorice root extract, tomato extract, and broccoli extract which are all part of the antioxidant fam, as well as a patented pro-collagen peptide, and plenty of other soothing, hydrating botanical extracts.

We suggest applying half a pump of Skin Veg to damp skin after cleansing, and letting those antioxidants do their good work. We suggest following up with…
In this anti-ageing 'fixer' serum with vitamin A, C + E, vitamin A comes in a retinyl palmitate form, perfect as an introductory form of vit A. One thing to bear in mind - it is not suitable for pregnant hoomans!
Vitamin A is a potent antioxidant, and one of the most important ingredients for your skin, hands down. This serum also contains vitamin C, which is a well-researched antioxidant, as well as vitamin E, also very well suited to protecting your skin from environmental factors.
Skin Protein also contains rooibos tea extract and green tea extract, which you might be more used to drinking! Either way, they are also excellent for addressing environmental damage to your skin as they are both superstars of the antioxidant world. And finally, Skin Protein contains the extract of Japanese knotweed - an extremely potent antioxidant, which helps relieve skin redness and soothe your skin, too!
Apply half a pump of it after Skin Veg, or post-cleansing, and spread over damp skin. You can also mix Skin Veg and Skin Protein together to save time (and we know that time is of the essence… or the serum).
The most serious perpetrator of environmental damage is UV light, coming straight to us from the sun.
We can't escape it - it's around every day of the year, even overcast days, UV light still exists, which is why it's key that we protect our skin from UV damage daily.
Even if we don't go outside (or have windows), our screens and lights produce HEV lights which can damage our skin in just the same way. So even if you're staying home, SPF still needs to be part of your routine!
Skingredients Skin Shield is a moisturising mineral SPF and day-cream. Apply half a teaspoonful to your face, ears, neck, and lips, and tap it into your skin! It is lightly peach-tinted to avoid that post SPF pallor, and leaves you with a dewy finish, perfect as a makeup primer or by itself! It's also a pollution shield, so it protects you from a heap of environmental damage in one small, orange package!
When it comes to environmental damage, there is a plenty that we can do - and loading up on antioxidants whilst wearing a broad-spectrum SPF is a perfect start!
You can shop the Skingredients here! What's your favourite product?