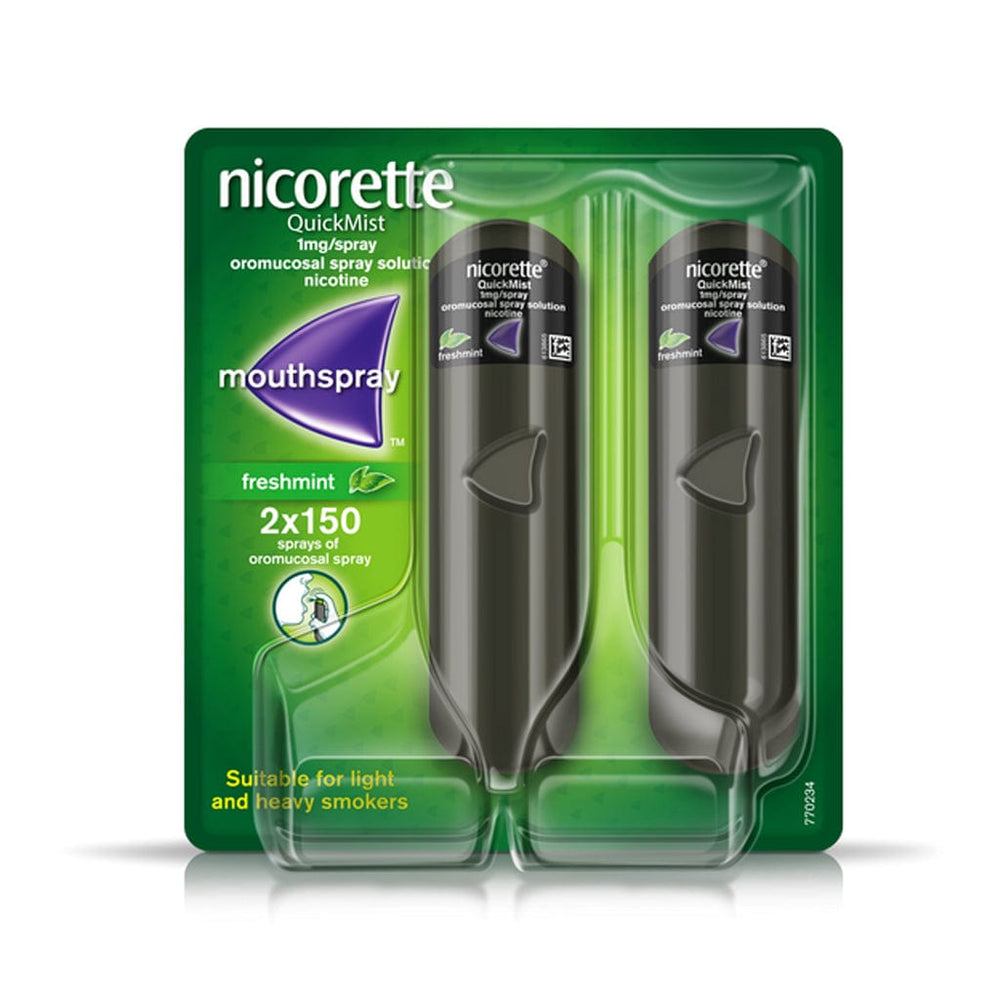 Nicorette Quickmist Freshmint double 2x1mg
Save

Liquid error (snippets/product-badge line 106): Computation results in '-Infinity'

%
Nicotine replacement therapy to help you quit smoking. Nicorette Quickmist is sprayed directly into the mouth. The nicotine is then rapidly absorbed through the lining of the mouth, helping to prevent or relieve craving to smoke.
Feautures & Benefits 
Clincally proven to be 2.5 times more effective at helping smokers to quit.*
Slim and stylish design for life on the go.
Fits easily into handbag or pocket.
150% more likely to break the habit and quit for good.*
Starts to act in 60 seconds to help overcome your urge to smoke - based on 2x1mg spray.
The nicotine is absorbed quickly into your body through the mouth lining, helping to rapidly relieve the urge to smoke. Regain control and feel more confident about quitting smoking by reducing cravings as quickly as possible.
Contains 2 x 150 sprays.
Directions for use:
Point the spray nozzle towards the open mouth, holding it as close as possible.
Avoiding the lips, press the top of the dispenser to release one spray into the mouth.
Avoid swallowing for a few seconds after spraying for best results.
Use 1 spray to begin with. If cravings don't disappear within a few minutes then spray again.
Use 1 - 2 sprays when you would normally smoke.
Maximum dose is 2 sprays at a time, 4 sprays per hour and 64 sprays per day.
You should stop smoking completely before using Nicorette Quickmist.
Start reducing the number of sprays per day after 6 weeks.
 Using nicotine replacement therapy will help, but giving up smoking requires willpower. Support and further information is available from your doctor, nurse or pharmacist. The National Smokers Quit Line is also available to help on 1800 201 203 or www.quit.ie
Side Effects:
As is the case with all forms of NRT, you may experience some side effects. These may include:
Tingling Lips: Some users have reported a mild burning sensation on their lips if they come into contact with the spray. This is completely normal and nothing to worry about. To avoid, simply take care not to get any spray on your lips.
Hiccups: Some users also report getting mild hiccups when using the spray. Don't worry, this is a common side effect for oral forms of NRT.
A Strong Taste: Some users have reported that NICORETTE® QuickMist has a distinctive, strong taste. This is quite normal for a Nicotine Replacement Therapy (NRT) product due to the strong taste of nicotine, the active ingredient in NRT.
Contains:
Nicotine (1mg per spray)
Also contains ethanol
See pack for other non-active ingredients.
Warnings:
Do not use if you are pregnant or breast feeding unless advised to do so by a doctor.
Consult your doctor or pharmacist before using if you have any heart, circulatory or stomach problems (including ulcers)
If you need to use this product for more than 6 months, you should consult your doctor.
Should not be used with other nicotine containing products.
Meaghers Blog
 By choosing ethically and sustainably produced beauty products we contribute to a more environmentally conscious and socially responsible industry. 

Lets look at some sustainable choices you can make in your beauty routine

Read now

This is the perfect time of year to look at the habits we would like to build to be the best version of ourselves for the term ahead. Small changes to nutrition, movement, sleep and gut health can make a huge impact on our wellbeing.

Read now