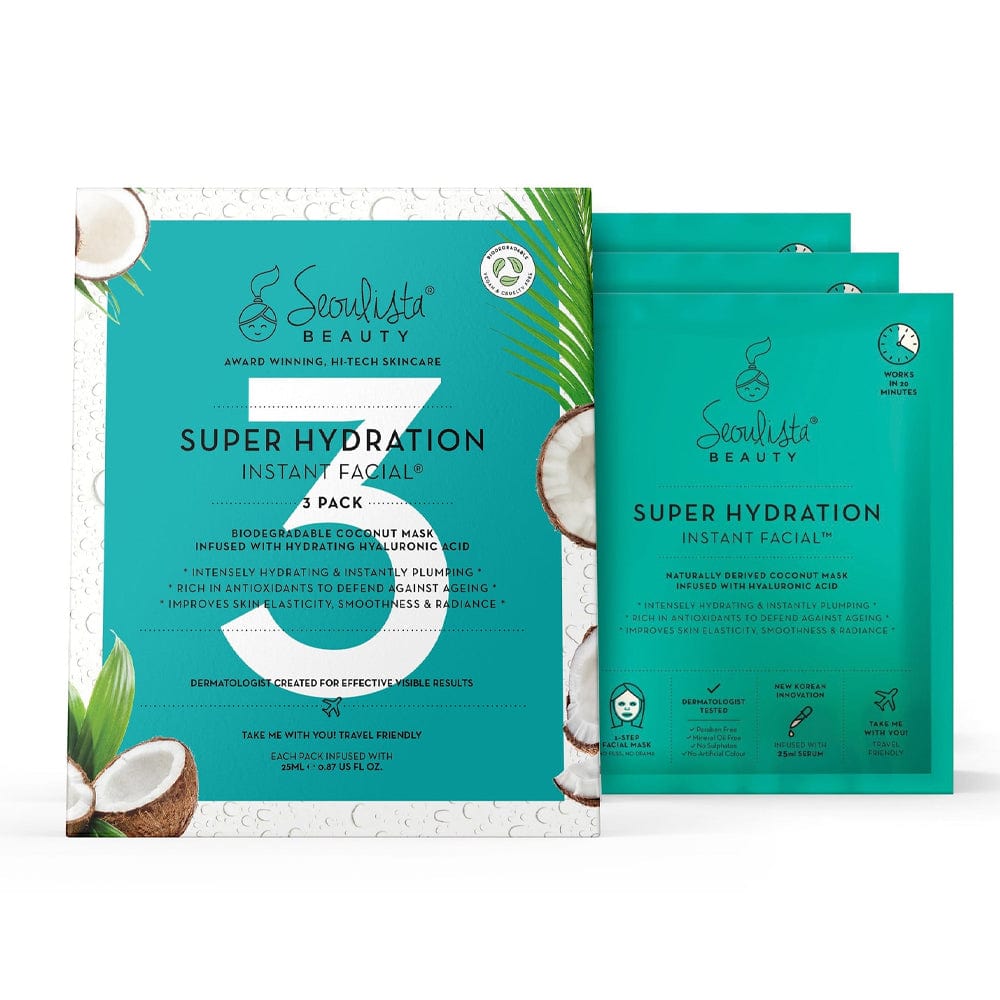 Seoulista Beauty Super Hydration Instant Facial 3 Pack
Description

How to use

Ingredients

Reviews
Deeply nourish skin with this naturally cooling, hydrating facial made from biodegradable biocellulose
Seoulista Super Hydration Instant Facial® is infused with hyaluronic acid and coconut within an antioxidant-rich serum to deliver intense hydration and nourishment to dry and dehydrated skin.

Harnessing the power of cryo-technology, the naturally cooling transfer system, made with game-changing biocellulose, fits the facial contours like a second skin. Cooling the skin to soothe, depuff, and promote blood and nutrient circulation, it drives the hydrating serum deeper into the skin.

A one-step facial at home, this hydrating, high-performance treatment should be used weekly to deliver superior results. Leave on for 20 minutes to reveal a plumped, youthful, and glowing complexion.
Tips
• Use at night to wake up to a fresh, dewy complexion.

• Don't forget to peel off the outer layer, for a second skin fit.

• Use the extra serum in the pack for your neck, chest & hands.

• Store in the fridge to further enhance the cooling benefits.
1. Cleanse your face, unfold facial, and peel off protective film.

2. Peel off second side of protective film, then smooth down to fit your facial contours.

3. Allow the serum to infuse for 20 minutes before removing.

4. Smooth the remaining serum into the skin. Do not wash off.
Hyaluronic Acid - Provides intense hydration for dry and dehydrated skin. A powerful humectant, it binds moisture to the skin, improves elasticity and reverses free radical damage for a more youthful-looking complexion.

Maple Leaf - Plant-derived and completely natural, the GCG's in maple leaves protect skin from inflammation and lighten dark spots, such as unwanted freckles or age spots.

Coconut - Rich in antioxidants and anti-ageing properties, coconut has a host of benefits from cocooning the skin with nutrient-rich moisture to protecting it from harmful bacteria and environmental stressors.
Meaghers Blog
Nutritionist Lucy Brennan 

ANutr shares her tips and advice when it comes to supporting male mental health.

Read now

Nutritionist Lucy Brennan 

ANutr shares her top tips on the best foods to incorporate into your diet when going through menopause.

Read now