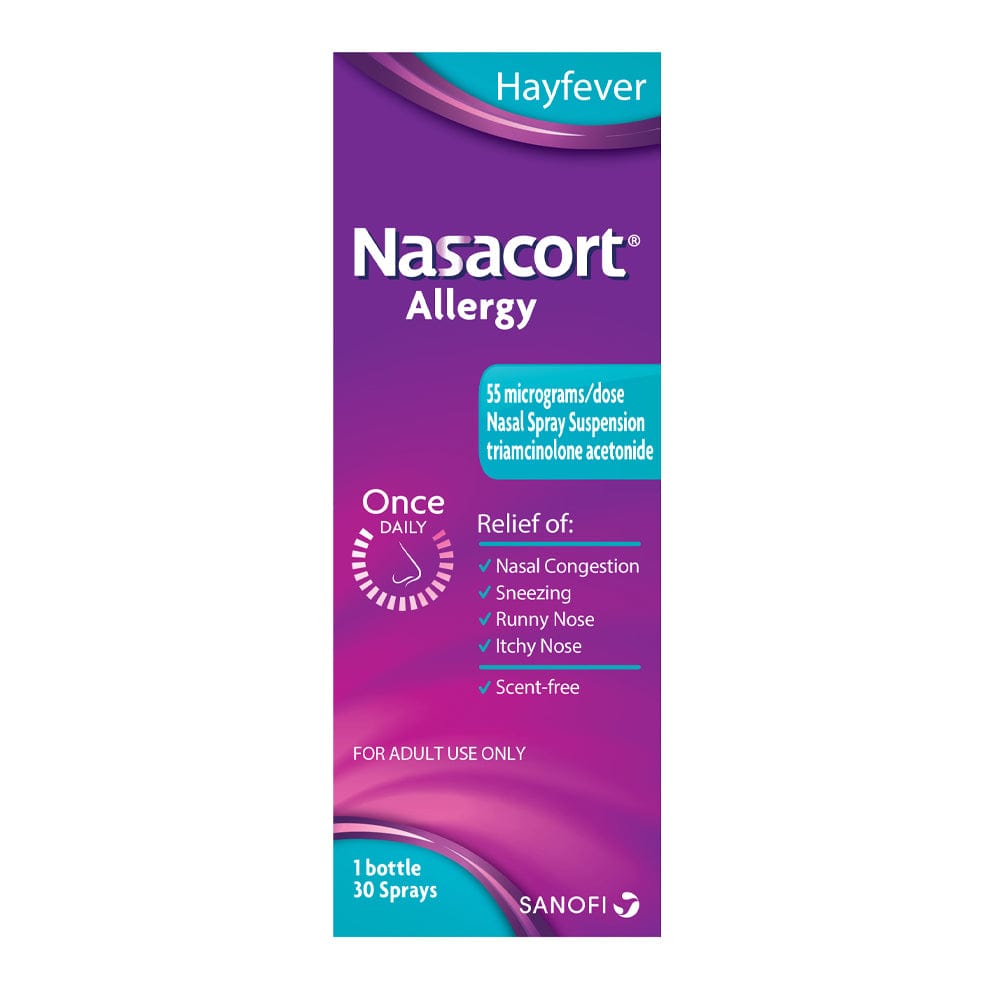 Nasacort Allergy Nasal Spray
Save

Liquid error (snippets/product-badge line 106): Computation results in '-Infinity'

%
Description

Directions

Reviews
Nasacort contains a medicine called triamcinolone acetonide. This belongs to a group of medicines called corticosteroids which means it is a type of steroid. It is given as a spray in the nose to treat the nasal symptoms of allergic rhinitis.

Nasal symptoms of allergy include sneezing, itching, and having a blocked, stuffy or runny nose. These can be caused by things such as:
Animal fur or house dust mites. This type of allergy can happen at any time of the year and is called 'perennial allergic rhinitis'.
Pollen. This type of allergy, such as hay fever, can be caused by different pollens in different seasons of the year. This is called 'seasonal allergic rhinitis'.
This medicine only works if used on a regular basis and may not help your symptoms straight away. It helps some people within the first day of treatment, however, for other people it may take 3 to 4 days to feel a relief.
Adults aged 18 or over: Use two sprays in each nostril once daily. Once symptoms improve use one spray in each nostril daily. 
How to use the spray:
Before using your nasal spray, blow your nose gently to clear your nostrils.
1. Preparing the bottle
Remove the cap by pulling upward
Shake the bottle gently before use
2. If you are using the spray for the first time
Hold the bottle upright
Point the spray away from you while doing this
Fill the pump with spray by pressing the nozzle downwards.
This is called priming
Press and release it 5 times
Do this until a fine spray is produced
The spray is now ready to use
3. Using the spray
Close one nostril with your finger
Hold the bottle upright and put the nozzle into the other nostril as far as is comfortable
Breathe in gently through your nose with your mouth closed
While you are doing this, press the nozzle to deliver one spray
4. Then breath out through your mouth
5. Repeat steps 3 and 4 if you have to spray again in the same nostril and for the other nostril
6. After using the spray
To keep the spray nozzle clean, wipe it carefully with a clean tissue or handkerchief after each use
Replace the cap over the nozzle
If the nasal spray has not been used for more than 2 weeks:
It needs to be primed again, to fill the nozzle with the spray
The nozzle should be pointed away from you while you are doing this
To prime, spray into the air once before use
Always shake the bottle gently before use
WARNINGS:
Do not use Nasacort:
If you are allergic to triamcinolone acetonide or any of the other ingredients of this medicine (listed in section 6)
Signs of an allergic reaction to Nasacort include: a rash (hives), itching, swallowing or breathing problems, swelling of your lips, face, throat or tongue.
Talk to your doctor or pharmacist before using Nasacort:
If you have any infection of the nose or throat that is not treated. If you get a fungal infection while using Nasacort, stop using the spray until the infection has been treated.
If you have recently had a nose operation, or had an injury or ulcer in the nose.
If you are being transferred from steroid injections or tablets to Nasacort spray.
If you have had glaucoma or cataracts
Contact your doctor if you experience blurred vision or other visual disturbances.
If you are pregnant or breast-feeding, think you may be pregnant or are planning to have a baby, ask your doctor or pharmacist for advice before taking this medicine.
Meaghers Blog
 By choosing ethically and sustainably produced beauty products we contribute to a more environmentally conscious and socially responsible industry. 

Lets look at some sustainable choices you can make in your beauty routine

Read now

This is the perfect time of year to look at the habits we would like to build to be the best version of ourselves for the term ahead. Small changes to nutrition, movement, sleep and gut health can make a huge impact on our wellbeing.

Read now