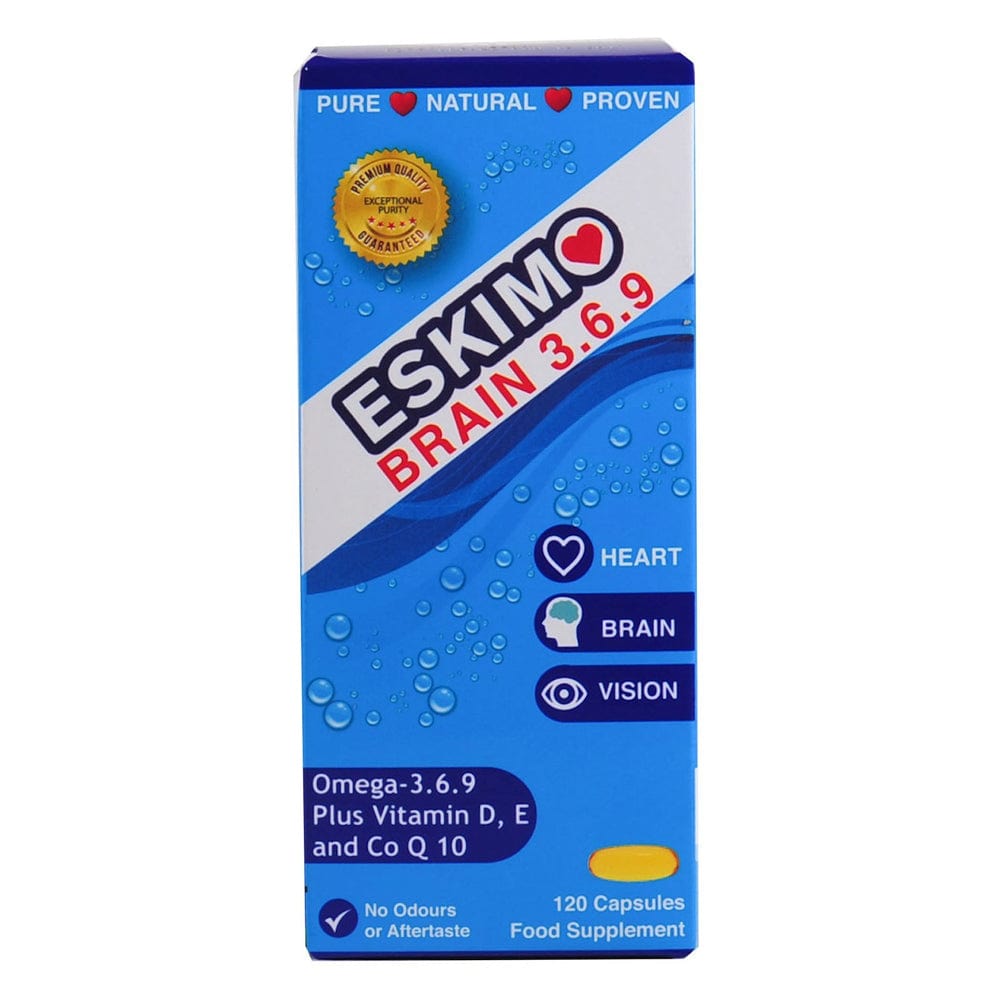 Eskimo Brain 3.6.9 Omega Fish Oils 120s
Save

Liquid error (snippets/product-badge line 106): Computation results in '-Infinity'

%
Description

Directions

Reviews
Eskimo Brain 3.6.9 (Formerly named Eskimo Brainsharp) combines the unique stable fish oil, Eskimo-3, with ingredients such as CoQ10 and GLA to optimize brain and energy support. Omega-3 fatty acids have been well studied for their role in the support of many systems in the body including brain function.
Provides high levels of omega 3 fatty acids EPA and DHA which support heart health, vision, normal blood pressure, skin health and normal triglyceride levels.
Omega 3 fatty acids EPA and DHA are also very important in supporting your brain's ability to perform - 60% of your brain is actually fatty acids.
Contains omega 6 derived from evening primrose oil. And omega 9 (oleic acid), a monounsaturated fatty acid found in large quantities in the healthy Mediterranean diet.
CoQ10 is found in virtually every cell of the body and is a crucial part of the process of converting food into energy. Low levels of CoQ10 are common, especially among older adults.
Vitamin D which contributes to immune health, normal bone, tooth and muscle health and cell division (mitosis). Mitosis regulates cell growth, development and repair in our bodies.
Vitamin E which contributes to the protection of cells from oxidative stress, as well as protecting the Brainsharp formula itself.
Enriched and protected with Pufanox®, an antioxidant mixture, for incredible freshness and stability, meaning no fishy odour or aftertaste.
Whether you're studying for exams, or looking to increase your brain power, Eskimo Brain 3.6.9 is the supplement for you. Containing active ingredients to help with brain and cognitive function, this formulation is the key to improved focus and mental performance.
Adults and children 12+ years: Take 2-4 capsules daily with food, or as directed by your healthcare practitioner. Capsules can be taken once daily.
Meaghers Blog
 By choosing ethically and sustainably produced beauty products we contribute to a more environmentally conscious and socially responsible industry. 

Lets look at some sustainable choices you can make in your beauty routine

Read now

This is the perfect time of year to look at the habits we would like to build to be the best version of ourselves for the term ahead. Small changes to nutrition, movement, sleep and gut health can make a huge impact on our wellbeing.

Read now