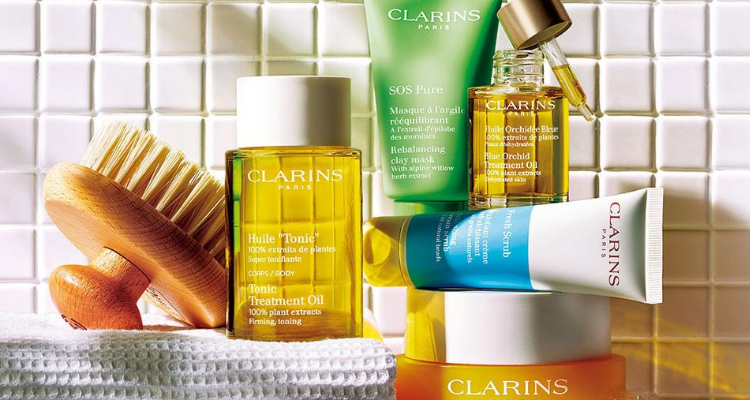 Clarins Skincare Top Picks
When it comes to skincare, Clarins is up there as one of the best brands out there. Founded in Paris in 1954, Clarins has always been a trailblazer in the skincare world and is a fantastic plant-based option to introduce into your skincare routine. Clarins formulas use over 250 natural plant extracts which are carefully chosen based on their effectiveness, making it a great option if you are looking for natural skin care products.
With something for everyone and every skin type, there is plenty to choose from in the Clarins range. We asked our Clarins guru Rose from our Baggot Street store to share with us her top picks from the range.
Clarins Body Smoothing Moisture Milk
Clarins body smoothing moisture milk with aloe vera is a great product for racing out the door in the morning! It is quickly absorbed for normal skin, and has a delicate neroli scent and a non-greasy feel. This gorgeous product can be used in both the morning and evening, and leaves skin feeling soft and supple, while providing moisture that lasts up to 48 hours!
Clarins Instant Eye Make-Up Remover
This a brilliant product to thoroughly remove even the most stubborn of eye make-up. Enriched with rose and cornflower waters, this eye make-up remover works to remove make-up while also moisturising and soothing the skin. Ultra-fine oils boost the cleansing ability of the product and also have a softening effect.
Simply shake to mix the formula, add a few drops to damp cotton wool and hold over eyes, but don't rub. Watch as long wear and waterproof eye make-up dissolves without leaving a greasy feel behind. Suitable for all skin types, this bi-phase make-up remover will remove eye make-up without damaging lashes, ensuring they are left in perfect condition. Can be used morning or evening. This product does not sting, is great for those with sensitive eyes and is suitable for contact lens wearers.
Clarins Hydra Essential Repairing Lip Balm
This luxurious non-sticky melting balm hydrates and nourishes dry and damaged lips. It is an absolute treat and one of our favourite products! If you are in need of instant comfort and soothing for your lips, this is the product for you. Reclaim your natural, rosy lips and enjoy fuller-looking lips with the use of this product. The presence of Blue Lotus wax ensures that the skin is repaired, while organic cupuassu butter and cocoa extracts soothe, moisturise and protect. Use as needed throughout the day, applying from the centre of the lips out to the corners of the mouth. This product is available in our Baggot Street store. 
Clarins Double Serum
Clarins Double serum is an absolute favourite of ours! This product is suitable for all ages and all skin types. Enriched with 21 plant extracts, this anti-aging serum uses a hydrolipidic and biomimetic double formula to stimulate nutrition, hydration, regeneration, oxygenation and protection. Stimulating 5 vital functions of the skin, this serum leaves skin hydrated, radiant and luminous! See a difference after only 1 week. Who wouldn't love that??!!
Clarins Beauty Flash Balm
Tired skin? No problem, sort it out with this ultimate pick-me-up. This cult product moisturises and eliminates signs of fatigue in a flash! Organic ingredients such as olive and witch hazel extracts smooth the skin and decrease visible lines, while soothing bisabolol helps to restore a youthful glow and give you radiant looking skin. This beauty balm instantly moisturises and brightens skin while also soothing and restoring the skin's glow! We won't say no to that!
If you have questions about the products in the Clarins range, feel free to phone our Baggot Street store on 01 660 5744 to speak to Rose who is happy to help and advise!