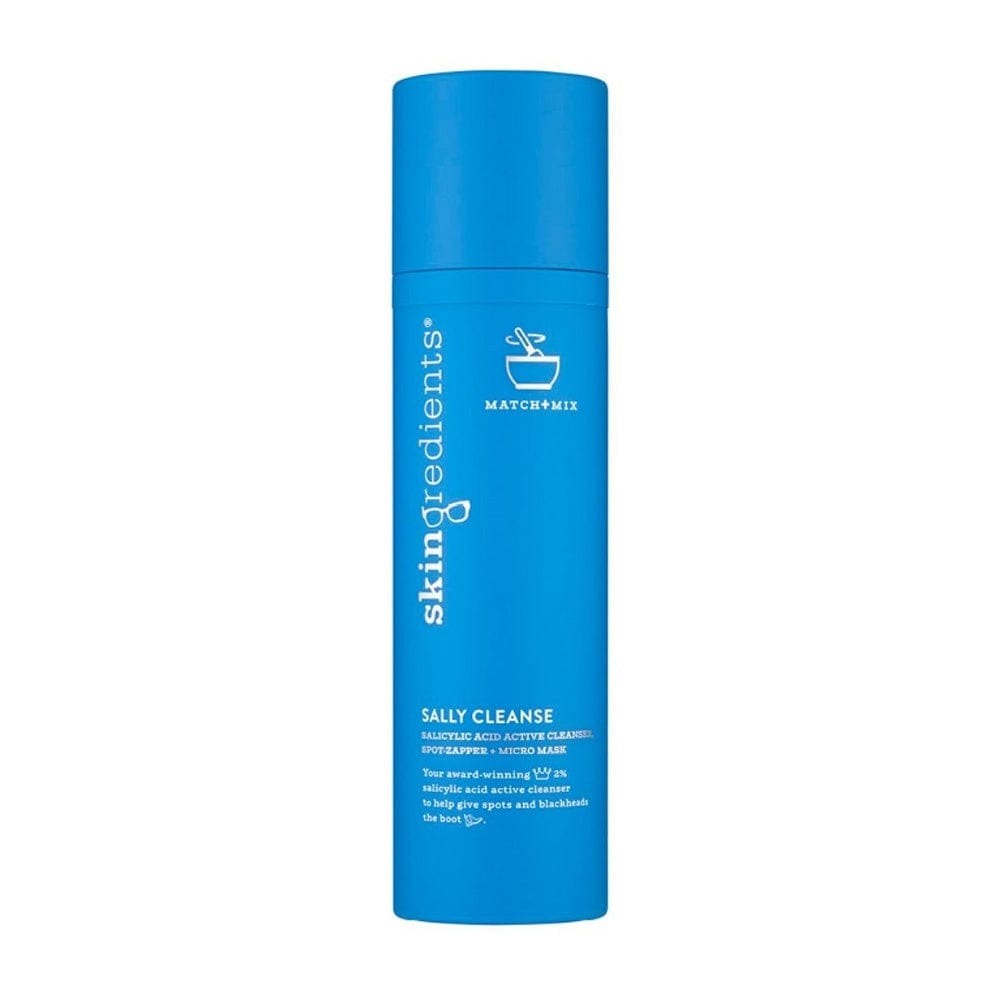 Skingredients Sally Cleanse 2% Salicyclic Acid Oil Control Cleanser
Description

Who's it for?

Directions

Ingredients

Reviews
Here's to putting Sally on a pedestal – that's Skingredients® Sally Cleanse Oil Control Cleanser (100ml), Skingredients multi-award-winning, 2% salicylic acid treatment cleanser that moonlights as a spot-zapper + micro-mask on the side.

Salicylic acid is an oil-soluble beta-hydroxy acid (BHA) that deep dives into pores to dissolve the sebum (aka oil), + dead skin cells, which helps to tackle spots, blackheads, lumps + bumps. It'll effectively exfoliate the skin's surface for instantly smoother results and help to lift away excess oiliness for a matte finish – it also an anti-inflammatory, which eases redness in the skin.
Sally Cleanse is part of our Match + Mix® range of skincare. They're "add-ons" to your Skingredients core recipe – that's the KeyFour – which work to address your individual skin concerns + help you reach your skin goals. Incorporate our Match + Mix products, like Sally Cleanse, into your AM + PM skincare routine when your skin needs it.
You must buy the refillable long-life primary pack first to enable you to pop in your refills! This Primary Pack tube is your tube-for-life that's made from resilient, ultra-durable materials. Ensure you keep your primary pack and switch to buying a refill tube next time. The slot-in Refill inner tube clicks into the refillable original primary pack product from our the NEW Skingredients refillable range only

She's a powerful ally to oily skinned hoomans, our Sally, but her company is best enjoyed in small doses – that's every 3rd PM to prevent skin irritation. Her BFF? PreProbiotic Cleanse of course. Use them alongside each other to exfoliate + give back to the skin. Plus, it's a skin-smoothing hero for bacne, chestne + bumne (be careful around sensitive areas) and keratosis pilaris, aka chicken skin. So you can't live without Sally? Make sure you keep your primary pack and switch to buying a refill tube next time. This Primary Pack tube is your tube-for-life that's made from resilient, ultra-durable materials.
Benefits:
Vegan
Cruelty Free
Refillable
• Those with very oily skin – salicylic acid helps to mop up excess oil and reduce redness
• Those with blackheads (open comedones) and whiteheads (closed comedones) – Sally gets to the root of spots and blackheads by clearing pores
• Those with under-the-skin spots – Sally can penetrate deep into the pore, reducing inflammation
• Hoomans ® (aka humans) over the age of 12
• Those with keratosis pilaris (chicken skin) and bacne – use anywhere on your body
• Not for those with super sensitive skin – and we always recommend patch testing
• Not for pregnant mamas-to-be – using high amounts of salicylic acid is not recommended during pregnancy
• Not for those on high-levels of medicated drugs prescribed by a dermatologist – speak to your dermatologist if you wish to use salicylic acid alongside your regime

Use in the PM every third night after pre-cleansing. Pump a coin-sized amount of cleanser into wet palms. Massage into your face using firm, circular, outward motions. After 60 seconds, rinse and remove with hands or our Cleanse Off Mitt.

To use Sally Cleanse as a spot-zapper: Apply directly to spots, leave for three minutes to calm inflammation and remove thoroughly with water.
To use Sally Cleanse as a micro-mask: massage Sally Cleanse into cleansed skin, leave for 2 minutes to target those pesky beneath-the-surface bumps and then remove. We recommend that you do this once-a-week maximum to avoid skin irritation.

Please note: this slot-in refill tube clicks into the original, primary packaging. You must buy the original, refillable Sally Cleanse Primary Pack first to use your refill tube.
Use Sally as a wash-off spot-zapper or as a micro-mask. If you're oily-skinned or prone to any form of congestion anywhere, whether it be blackheads of keratosis pilaris (chicken skin), Sally is your new best friend. 

How To Refill:
1. To begin, twist your inner tube out
2. Twist off the pump and the collar – keep your pump and collar
3. Take your refill tube, remove the lid, replace the collar and twist the lid back on
4. Screw the inner tube into the outer tube and away you go, ready to cleanse

Aqua (Water), Cocamidopropyl Betaine [1], Ammonium Lauryl Sulfate [1] , Sodium Cocoamphoacetate [1] , Sodium Chloride [2] , Propylene Glycol [3] , Salicylic Acid [4] , Phenoxyethanol [5] , Gluconolactone [6], Sodium Hydroxide [7], Benzoic Acid [5], Disodium EDTA [8] ,Sodium Benzoate [5], Calcium Gluconate [3], Citric Acid [7]
Glossary: [1] Surfactant (Cleansing Agent), [2] Viscosity controlling agent [3] Hydrator (Humectant), [4] Beta Hydroxy Acid (BHA), Exfoliating, [5] Preservative, [6] Polyhydroxy Acid (PHA), Exfoliating, [7] pH Balancer [8] Stabiliser.
Meaghers Blog
Nutritionist Lucy Brennan 

ANutr shares her tips and advice when it comes to supporting male mental health.

Read now

Nutritionist Lucy Brennan 

ANutr shares her top tips on the best foods to incorporate into your diet when going through menopause.

Read now