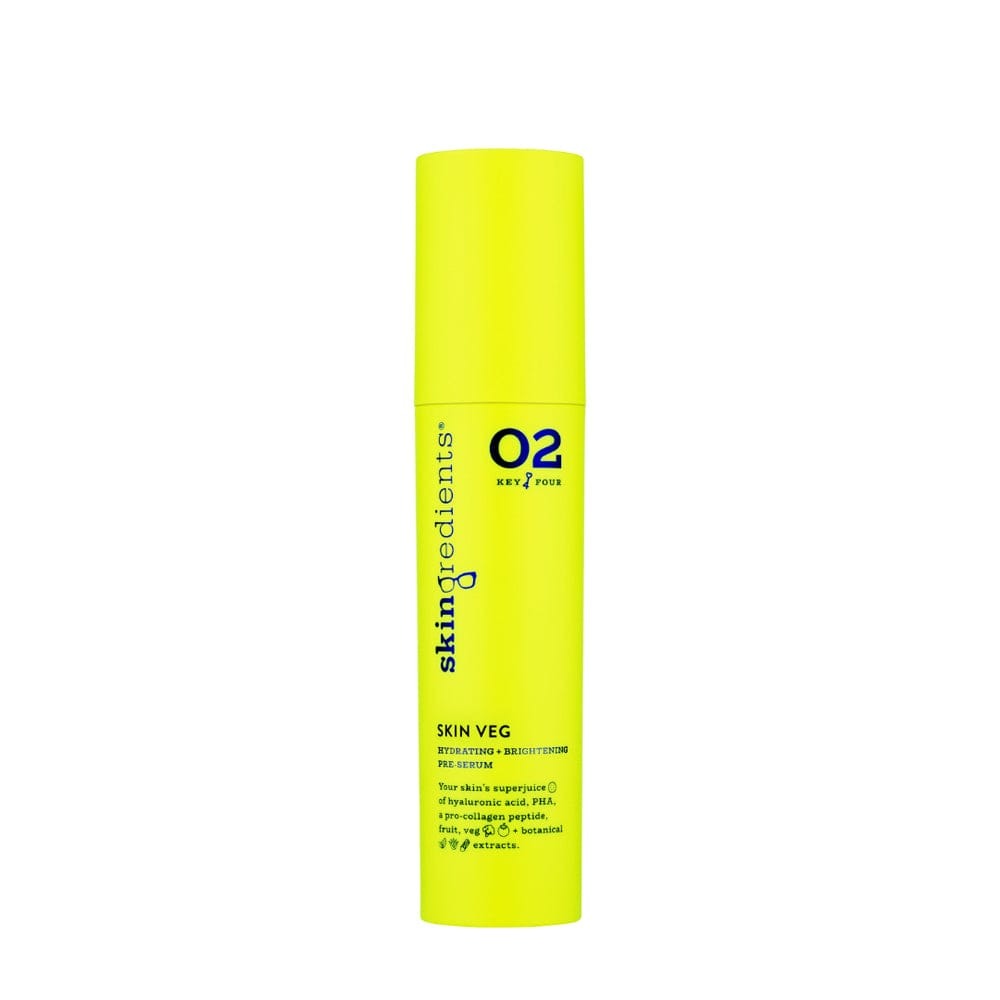 Skingredients Skin Veg Hydrating Hyaluronic Acid Serum
Description

Who It's For?

Directions

Ingredients

Reviews
Skingredients® Skin Veg (45ml) is your super juice hydrating + brightening serum that's powered by fruit + veg extracts galore to tick off your skin's 5-a-day. Expect instant hydration station with long-term benefits (hello brighter + plumper skin!) after your skin (eye area included!) slurps up Skin Veg's replenishing recipe.

It's enriched with hyaluronic acid, a humectant hero that attracts + retains moisture, a pro-collagen peptide to diminish fine lines + wrinkles, and a polyhydroxy acid (PHA) to assist deeper penetration of the serums that follow. That's all combined with fruit, veg + botanical extracts to arm skin with an antioxidant defence, which counteracts the harmful effects of free radicals. Veg + fruit you ask? Turns out our body and skin are pretty similar – they both require protein, good fats, vegetables + fruit to source the amino acids, vitamins and essential fatty acids needed to function at their best. We added PHA to the mix, a second-generation alpha-hydroxy acid (AHA), for a dash of exfoliation that's gentle enough for every day.
You must buy the refillable long-life primary pack first to enable you to pop in your refills! This Primary Pack tube is your tube-for-life that's made from resilient, ultra-durable materials. Ensure you keep your primary pack and switch to buying a refill tube next time. The slot-in Refill inner tube clicks into the refillable original primary pack product from our the NEW Skingredients refillable range only

Skingredients ultra-lightweight + skin-soothing Skin Veg is the 02 in the Skingredients KeyFour regime. A hydrating, brightening pre-serum + penetrant enhancer that helps your rock star ingredients sing, it's suitable for all hoomans in the AM + PM. A face, neck + eye serum in one, apply from the nipples up or mix a healthy dose into your foundation to reveal instant skin luminosity – ooh-la-la! After falling in love with Skin Veg and using every last pump, keep your primary pack and switch to buying a refill tube next time. This Primary Pack tube is your tube-for-life that's made from resilient, ultra-durable materials.
Benefits:
Vegan
Cruelty Free
Refillable

Main Ingredients:
• Clinically-proven pro-collagen peptide: reduces the depth + appearance of fine lines, wrinkles + "drinkles" (aka wrinkles caused by dehydration)
• Sodium hyaluronate: low molecular weight hyaluronic acid to instantly + deeply hydrate the skin
• Gluconolactone: a PHA (polyhydroxy acid) to assist subsequent product absorption + gently exfoliate the skin for rock star ingredients to show their true talents
• Fruit + veg extracts: soothing, nourishing + antioxidant in nature – the skin is an organ ® and should be treated as such
• Liquorice root extract: a brightening botanical ingredient + antioxidant
• All hoomans® (aka humans) – regardless of skin type, including mamas-to-be
• Dry or dehydrated skin – say "hiya" to hyaluronic acid
• Irritated, flaky, red skin – free from fragrances + drying alcohols, it's full of skin-soothers
• Oily or congested skin – non-comedogenic and anti-inflammatory, your skin craves moisture too
• Those looking to tackle fine lines and wrinkles – with antioxidants + a pro-collagen peptide, you're sorted
• Those seeking healthy-looking, balanced skin – it'll hydrate + improve skin clarity
• Dry, dehydrated, dull eye area – it's an eye serum too, so bring it around your peepers
Use daily in the AM and PM after cleansing. Apply 1 pump prior to your other serums or moisturiser for a quick shot of dewy goodness. Smooth into skin from the nipples up! Our top recommendation is to mix a pump of Skin Veg with a pump of our Skin Protein and apply to slightly damp skin post-cleanse.

Please note: this slot-in refill tube clicks into the original, primary packaging. You must buy the original, refillable Skin Veg Primary Pack first to use your refill tube.

How To Refill:
After falling in love with 02® (aka the green one) and using every last pump, you'll want to top up on the brightening goodness of our pre-serum + penetrant-enhancer.
1. To begin, twist your inner tube out.
2. Twist off the pump – remember to keep your pump close!
3. Take your refill tube, remove the lid + twist the lid back on.
4. Click the inner tube into the outer tube.
5. Serve your skin our hydrating tonic!
6. Wash, dry + recycle your refill.

Tip: Skin Veg is adored by make-up artists, so for a shot of runway elegance, apply pre-makeup for a gorgeous, dewy priming effect with long-term skin benefits.
Aqua (Water), Glycerin [1], Butylene Glycol [2], Gluconolactone [3], Sodium Hyaluronate [4], Hydrolyzed Soybean Fiber [5], Beta-Glucan [6], Brassica Oleracea (Broccoli) Italica Extract [7], Solanum Lycopersicum (Tomato) Fruit Extract [7], Camellia Sinensis Leaf Extract [8], Glycyrrhiza Glabra (Licorice) Root Extract [9], Cucumis Sativus (Cucumber) Fruit Extract [7], Aloe Barbadensis Leaf Juice Powder [10], Phenoxyethanol [11], Sodium Hydroxide [12], 1,2-Hexanediol [11], Caprylyl Glycol [13], Sodium Benzoate [11], Ethylhexylglycerin [11], Citric Acid [12], Potassium Sorbate [11]
Glossary: [1] Hydrator (Humectant), [2] Delivers Active Ingredients, [3] Polyhydroxy Acid (PHA), [4] Hyaluronic Acid (Low Molecular Weight), [5] Pro-Collagen Peptide, [6] Antioxidant, Anti-Inflammatory, Cell Renewing, [7] Fruit/Vegetable Extract, [8] Green Tea Extract, [9] Plant Extract, [10] Aloe Vera Extract (Anti-Inflammatory), [11] Preservative,  [12] pH Balancer, [13] Texture Enhancer.
Meaghers Blog
Nutritionist Lucy Brennan 

ANutr shares her tips and advice when it comes to supporting male mental health.

Read now

Nutritionist Lucy Brennan 

ANutr shares her top tips on the best foods to incorporate into your diet when going through menopause.

Read now