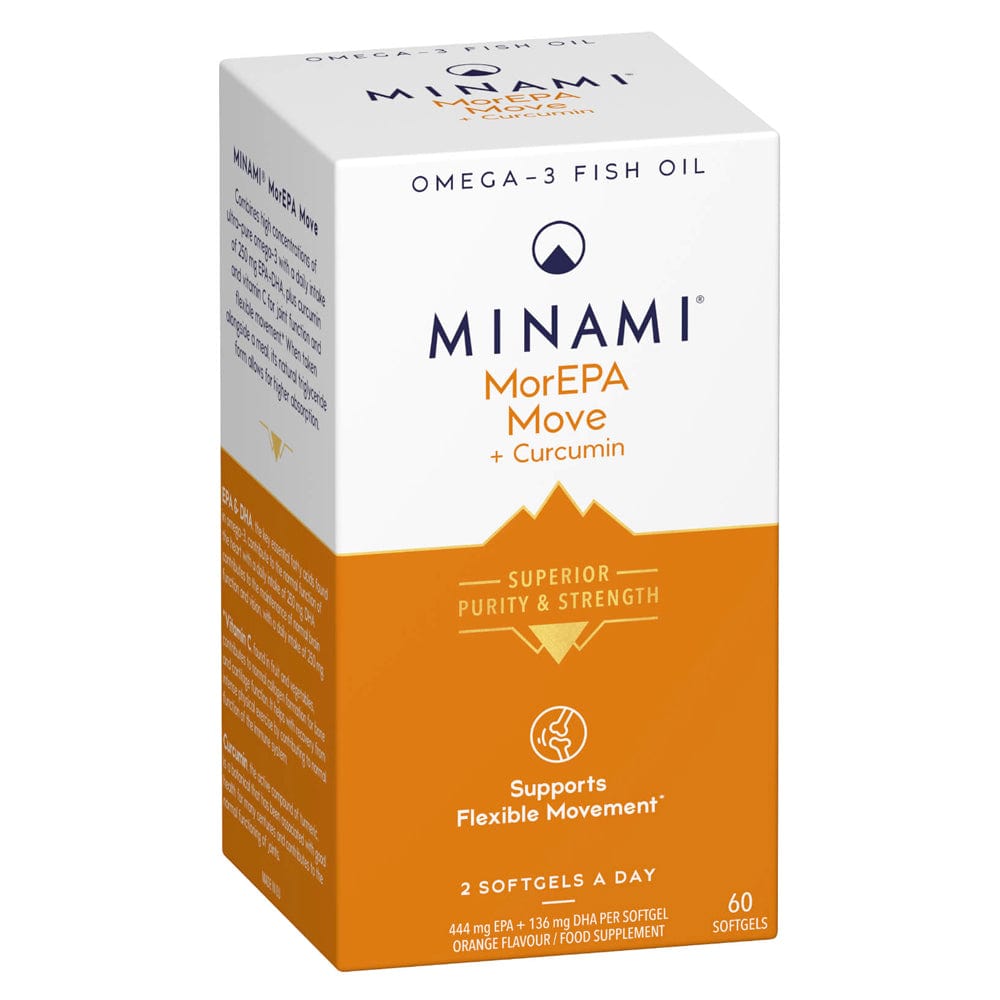 MorEPA Move Omega-3 60 Capsules
MorEPA Move is Minami's combination of high concentrated (90%) omega-3 (445 mg EPA + 136 mg DHA) with curcumin, vitamin C and copper in a premium formulation for flexible movement.
Curcumin contributes to the flexibility of the joints and the maintenance of strong bones
Vitamin contributes to the normal collagen formation and the normal function of cartilage and bones.
Copper contributes to the maintenance of normal connective tissues. 
EPA and DHA contribute to the normal function of the heart with a daily intake of at least 250 mg EPA+DHA (1 softgel/day)
DHA contributes to the maintenance of a normal vision and a normal brain function with a daily intake of at least 250 mg DHA (2 softgels/day)
Directions for use:
For adults: 2 softgels a day, with a meal.
Ingredients / content per softgel :
Deep-sea fish oil concentrate (from anchovy, sardine and mackerel), fish gelatin, curcuma extract (Curcuma longa L.) & phosphatidylcholine complex (from soy), humectant: glycerol, ascorbic acid, stabilizer: sunflower lecithin, stabilizer: beeswax, natural orange flavor, copper gluconate, antioxidant: a mix of rosemary and tocopherol rich extract (Miradoxan), colour: iron oxide.
1 softgel contains:
Deep-sea fish oil concentrate ....... 700 mg
Omega-3 fatty acids ........................ 640 mg
EPA Eicosapentaenoic acid ........ 444 mg
DHA Docosahexaenoic acid ....... 136 mg
Other omega 3 fatty acids ........... 60 mg
Vitamin C (ascorbic acid) ............... 60 mg
Copper (copper gluconate) ........... 500 mcg
Meriva® Curcumin phytosome ...... 250 mg
(Curcuma extract (Curcuma longa L.)
(rhizome) & phosphatidylcholine complex)
Meaghers Blog
 By choosing ethically and sustainably produced beauty products we contribute to a more environmentally conscious and socially responsible industry. 

Lets look at some sustainable choices you can make in your beauty routine

Read now

This is the perfect time of year to look at the habits we would like to build to be the best version of ourselves for the term ahead. Small changes to nutrition, movement, sleep and gut health can make a huge impact on our wellbeing.

Read now