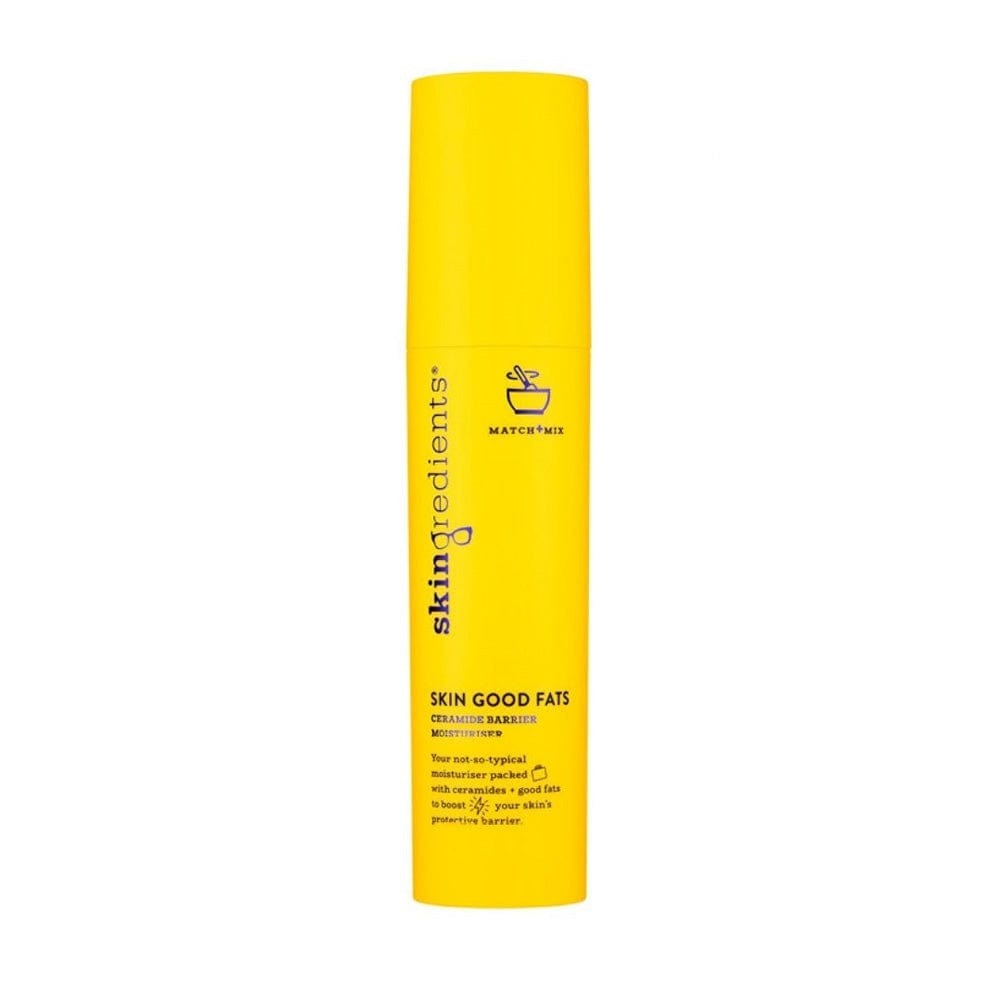 Skingredients Skin Good Fats Ultra-Hydrating Ceramide Moisturiser
Description

Who It's For?

Directions

Ingredients

Reviews
Skingredients® Skin Good Fats (45ml) is your rich moisturiser and night cream, which locks in hydration, while reducing inflammation and irritation. This ceramide barrier balm works by replenishing your skin's essential fats, vitamins and goodness to bring equilibrium to your skin. Featuring skin-native lipid ceramide NP, shea butter glycerides and grapeseed oil, Skin Good Fats is packed with good fats and a clinically-proven, patented anti-irritation ingredient to stop those itches. We know you're not surprised that it's filled with potent antioxidants too, such as niacinamide – vitamin B3 – and vitamin E.
This moisturiser is healing, hydrating and anti-inflammatory with a buttery balm texture, making it ideal for those with sensitive or irritated skin, and those using acids or retinols. This refill tube is made for use within the Skingredients Skin Good Fats refillable primary pack only, slotting in easily. It's skincare that'll do better by your skin + the planet!
Benefits:
Vegan
Cruelty Free
Non-comedogenic
Main Ingredients:
• Ceramide NP: a skin-native lipid that helps improve the skin barrier function
• Shea butter glycerides: a moisturising ingredient derived from shea butter fatty acids
• Avena sativa (oat) kernel extract: a clinically-proven anti-irritant with antihistamine properties
• Vitis vinifera (grape) seed oil: a moisturising oil with antioxidant properties
• Niacinamide (vitamin B3) and vitamin E: potent antioxidants to fight free radical damage
• Those who love a creamy moisturiser – this comforting product is luxuriously fat-filled, yet non-greasy
• Those with irritated, itchy, red or flaky skin – boosts your skin barrier and helps to stop itchiness
• Those with very dry skin – oils to take the place of those oils your skin is lacking
• Those with oily skin who need extra hydration in the winter months and sporadically when required

Use in the PM after cleansing and applying serum. Apply one pump from the nipples up. Spread gently on all affected areas and across skin in sweeping, outwards motions. Skin Good Fats can be used in the AM for an extra shot of balancing moisture.

Please note: this slot-in refill tube clicks into the original, primary packaging. You must buy the original, refillable Skin Good Fats Primary Pack first to use your refill tube
Tip: Apply to any particularly dry areas of skin, around elbows, knees, etc! For extra hydration apply Skin Good Fats for 20 minutes and remove thoroughly for a comforting, soothing micro-mask.

How To Refill:
1. To begin, twist your inner tube out.
2. Twist off the pump and keep your pump! Take your refill tube, remove the lid and twist the lid back on.
3. Screw the inner tube into the outer tube and away you go.

Aqua (Water), Glycerin [1], Ethylhexyl Palmitate [2], Caprylic/Capric Triglyceride [2], Butylene Glycol [3], Myristyl Myristate [2], Glyceryl Stearate [4], PEG-100 Stearate [4], Ammonium Acryloyldimethyltaurate/VP Copolymer [5], Butyrospermum Parkii (Shea) Butter[6], Ceramide Np [7] , Vitis Vinifera (Grape) Seed Oil [6], Avena Sativa (Oat) Bran [8], Niacinamide [9], Aloe Barbadensis Leaf Juice Powder [10], Calendula Officinalis (Calendula) Flower Extract [11], Hydroxyacetophenone [12], 1,2-Hexanediol [1], Caprylyl Glycol  [1], Disodium EDTA [13] , Sodium Hydroxide [14], Potassium Sorbate [15], Citric Acid [14]
Glossary: [1] Hydrator (Humectant), [2] Emollient, [3] Delivers Active Ingredients, [4] Emulsifier, [5] Texture Enhancer, [6] Good Fats/Lipids, [7] Reinforcement of skin barrier function [8] Anti-Irritant, [9] Vitamin B3,  [10] Aloe Vera Extract, Anti-Inflammatory, [11] Calendula Extract, Anti-Inflammatory,[12] Antioxidant, [13] Stabiliser, [14] pH Balancer [15] Preservative
Meaghers Blog
Nutritionist Lucy Brennan 

ANutr shares her tips and advice when it comes to supporting male mental health.

Read now

Nutritionist Lucy Brennan 

ANutr shares her top tips on the best foods to incorporate into your diet when going through menopause.

Read now